Happy Sundae! Welcome to Paper Sundaes Challenge #25 sponsored by Fred She Said!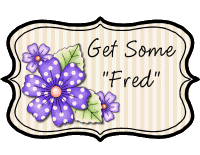 Fred She Said sells wonderful digi stamps, digi papers, colored digital images, etc. Be sure to play along for your chance to win a fantastic $20 gift certificate to their store.
This week our design team has decided to go with a color challenge: White Plus One! What we would like to see is your card to be predominately two colours - white plus one other color of your choice. White plus the colour of your choice must be the two dominant colours on the project but it may contain splashes of other colours. Have fun, we can't wait to see what you come up with!
Fred She Said kindly gave each of our Design Team members a Fred She Said image to play with, and this is what we created:
Entry rules include that card creations must be new, linked back to the challenge, and the link posted must link directly to the card. Maximum two entries per person please however you may combine our challenge with others to a maximum of ten challenges. Please use widget below to link to your card. If the widget is missing, please use the comment section to add your link. When uploading your card to Splitcoast Stampers, please use the label PSC25. Challenge closes at 11:59 pm EST Saturday, July 10th.
Each challenge we will select the Top Three winners who are invited to post our Top Three badge on their site!
Good Luck and Thank you for topping your Sunday with us!