Thank you to all our fabulous participants who helped to make our Birthday Celebration a success! We have a long list of winners, so please grab yourself a tea or coffee and make yourself comfortable!
Winners names are listed directly below each of our Fabulous Sponsors:
Letraset - ProMarker Winter 5 Set
Whisper - Blog Hop Winner
Lili of the Valley -- £10.00 Gift Certificate
Heather - Challenge Winner
2 - $25 Scholarships for Spring Semester
Melissa Bove - Blog Hop Winner
Katarina - Challenge Winner
Pink Cat Studio - 5 Digital Images
Caroline - Blog Hop Winner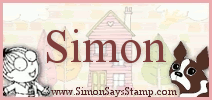 Simon Says Stamp
Helen's Craft Haven - Challenge Winner
Stamp & Create
Emily Keaton - Challenge Winner
Tickled Pink - 2 Digital Stamps
Margreet - Blog Hop Winner
Tiiti - Blog Hop Winner
We have more winners on the following blogs:
Pattie
- AuntBeesPickles (Sarah Taylor)
Lisa
- Netty
Karina - Cassie
Gloria
- Kylie
Fiona
- Corry and Shana
Danielle
- dbennet (Dawn)
Crystal
- dmbennett (Dawn)
Shana
- newfiecrafter (Marilyn)
Christine
- Marilyn Webb
Thank you to everyone who joined us for our Birthday Celebration Challenge! We had a wonderful 129 entries last week. In no particular order, here are our top 3 picks!
Congratulations, ladies! Please feel free to display our Top 3 Winner badge proudly on your blog!
Challenge Winners and Paper Sundaes Blog Hop Winners please contact us using the Contact Me button in the sidebar by Sunday, January 30th! Winners from our DT blogs please visit the individual blogs.
Remember that you have until Saturday night to enter our 'De-Stressing Challenge' for your chance to win a $15 gift certificate to Simon Says Stamp!
Thanks for playing along with us at Paper Sundaes!
Shana, Christine & our Paper Sundaes team